Entdecken Sie, was
Sie lernen können.
Mit Videokursen für Beruf, Studium und Freizeit.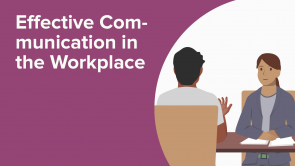 Effective Communication in the Workplace (EN)
Von Dan O'Connor
Become a master of effective professional communication!
This course covers the critical communication foundation on which a professional image is built. You will learn how to build a solid, unshakable foundation so you can easily command more attention and respect when delivering a critical message either at work or at home.

In this course, you will learn how to:
Establish power and control in any relationship, so you can use that power to direct the relationship in the direction you choose

Recognize patterns in our relationships, and what those patterns mean, so you can change your patterns to ones that serve you

Identify what key elements are really missing in your relationships that are preventing them from moving forward, so you can then infuse your relationships with these missing pieces
As a comprehensive online training, this course is designed for different audiences. Therefore, it may be used as either of the following:
This course has automatically generated subtitles. Your feedback helps us to continuously improve our offerings.
---
Details
Enthaltene Vorträge: 7
Laufzeit: 2:56 h
Enthaltene Quizfragen: 38
Enthaltene Lernmaterialien: 6
---
Dozenten des Kurses Effective Communication in the Workplace (EN)
---