Entdecken Sie, was
Sie lernen können.
Mit Videokursen für Beruf, Studium und Freizeit.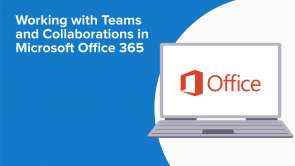 Working with Teams and Collaborations in Microsoft Office 365 (EN)
Von Sonic Performance
Teams is an intuitive platform that simplifies collaboration within companies. You can work on documents, communicate via chat, calls and video conferences, share screens, schedule meetings, and enrich your teamwork with other helpful extras like wikis.
Get ready to discover Microsoft Teams as your central place within Office 365. Teams will be your one stop central point for any work that involves communication and collaboration.
When you complete this training, you will become a particularly valuable team member, you will boost your productivity significantly and you will get things done.
---
Details
Enthaltene Vorträge: 14
Laufzeit: 1:01 h
Enthaltene Quizfragen: 10
---
Diese Kurse könnten Sie interessieren
Dozenten des Kurses Working with Teams and Collaborations in Microsoft Office 365 (EN)
---