Entdecken Sie, was
Sie lernen können.
Mit Videokursen für Beruf, Studium und Freizeit.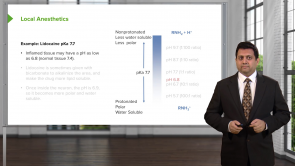 Essential Medicines (MBBS India)
Von Pravin Shukle, MD, Julianna Jung, MD, FACEP
Essential medicines are defined as the list of crucial medications that must be available for every health care system to function optimaly and meet the priority needs of a population. In this course, the student will be given a tour through some examples of essential medications. For optimal comprehension, the student should be familiarized with basic concepts of pharmacology.
---
Details
Enthaltene Vorträge: 11
Laufzeit: 0:54 h
Enthaltene Quizfragen: 33
Enthaltene Lernmaterialien: 4
---
Diese Kurse könnten Sie interessieren
Dozenten des Kurses Essential Medicines (MBBS India)
---