Entdecken Sie, was
Sie lernen können.
Mit Videokursen für Beruf, Studium und Freizeit.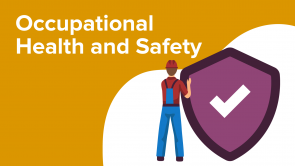 Occupational Health and Safety (EN)
Von Lecturio Online Courses
Learn what you can do to take care of your health and safety at work!
The topics of occupational health and safety are not boring lectures. On the contrary! This course aims to make a significant contribution to ensuring that every employee in a company is able to protect their health and be mindful. Complete this course to contribute to staying healthy and accident-free for as long as possible.

What this course will teach you in a short and compact way:
Occupational Safety and Health Basics: Knowing the basics will help you know who has what responsibilities, how occupational safety and health is generally organized, and what rights and responsibilities are involved.
General occupational safety: There are a few essential protective measures that play a role in every company. Find out, among other things, which hygiene measures should be observed and how you can protect yourself against infections in the company, for example.
Occupational safety in the office: Sitting at a desk day after day means being exposed to certain stresses - physical, visual, but also psychological. If you want to stay healthy in the long term, you should be aware of the specific stresses. Even a few simple habits can make a big difference over a long working career.
Emergency behavior: Knowing safety measures will already significantly minimize the risk of something happening. During the presentations, you will learn how to behave properly and what you can do in the face of an emergency.
The content of the course was created in collaboration with Dr. Wolfgang Friedl.

Key facts about the course
Consolidate your understanding and knowledge with quizzes.
In addition to the video content, you will receive downloadable materials from the presentation.
This course has automatically generated subtitles. Your feedback helps us to continuously improve our offerings.
Start now and invest a little time for the health and the safety of you and your colleagues.
---
Details
Enthaltene Vorträge: 23
Laufzeit: 2:20 h
Enthaltene Quizfragen: 39
Enthaltene Lernmaterialien: 20
---
Dozenten des Kurses Occupational Health and Safety (EN)
---