Entdecken Sie, was
Sie lernen können.
Mit Videokursen für Beruf, Studium und Freizeit.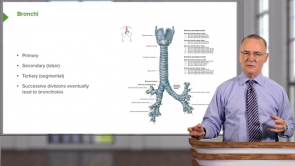 Abdominal Wall with Dr. Canby
Von Craig Canby, PhD
The abdominal cavity is enclosed by the abdominal wall, which is formed by multiple layers of overlaid connective tissue and muscles that—aside from direct protection to the abdominal organs—provide stability and movement to the spine.

In this course, the student will be introduced to the layers of the abdominal wall, the spine and back muscles, the irrigation and innervation of the abdominal wall, and the inguinal canal.

For optimal comprehension, the student is encouraged to correlate the lessons of this course with their counterparts in histology, physiology, and embryology.

Defects anywhere along the abdominal wall can cause intra-abdominal contents to protrude, or herniate. Abdominal hernias are a very common cause of abdominal and inguinal pain, requiring prompt surgical repair because of the risk of incarceration and strangulation of the contents of the hernial sac. The anatomy of the abdominal wall is of particular focus for the specialty of general surgery, as a good understanding of its components and biomechanics is key for adequate repair of defects (herniorrhaphy) that cause herniation of abdominal contents.

Clinical diagnosis of conditions affecting the abdominal wall requires a good physical examination, which is founded on a solid grasp of the anatomy. A competent physician and nurse are required to have a good understanding of the anatomy of the abdominal wall and the abdominal organs beneath to ensure their assessment of the patient has a good diagnostic yield.
---
Details
Enthaltene Vorträge: 45
Laufzeit: 5:08 h
Enthaltene Quizfragen: 169
Enthaltene Lernmaterialien: 10
---
Diese Kurse könnten Sie interessieren
Dozenten des Kurses Abdominal Wall with Dr. Canby
---