Entdecken Sie, was
Sie lernen können.
Mit Videokursen für Beruf, Studium und Freizeit.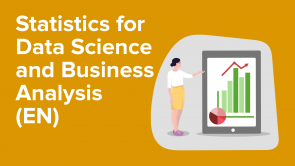 Statistics for Data Science and Business Analysis (EN)
Von 365 Careers
Is statistics a driving force in the industry you want to enter? Do you want to work as a Marketing Analyst, a Business Intelligence Analyst, a Data Analyst, or a Data Scientist?
Well then, you've come to the right place! Statistics for Data Science and Business Analysis is here for you with TEMPLATES in Excel included! This is where you start. And it is the perfect beginning!
In no time, you will acquire the fundamental skills that will enable you to understand complicated statistical analysis directly applicable to real-life situations.
We have created a course that is:
Easy to understand
Comprehensive
Practical
To the point
Packed with plenty of exercises and resources
Data-driven
Introduces you to the statistical scientific lingo
Teaches you about data visualization
Shows you the main pillars of quant research
Why do you need these skills?
Salary/Income – careers in the field of data science are some of the most popular in the corporate world today. And, given that most businesses are starting to realize the advantages of working with the data at their disposal, this trend will only continue to grow
Promotions – If you understand Statistics well, you will be able to back up your business ideas with quantitative evidence, which is an easy path to career growth
Secure Future – as we said, the demand for people who understand numbers and data, and can interpret it, is growing exponentially; you've probably heard of the number of jobs that will be automated soon, right? Well, data science careers are the ones doing the automating, not getting automated
Growth - this isn't a boring job. Every day, you will face different challenges that will test your existing skills and require you to learn something new
Let's start learning together now!
This course has automatically generated subtitles. Your feedback helps us to continuously improve our offerings.
---
Details
Enthaltene Vorträge: 42
Laufzeit: 3:17 h
Enthaltene Lernmaterialien: 78
---
Diese Kurse könnten Sie interessieren
Dozenten des Kurses Statistics for Data Science and Business Analysis (EN)
---