Entdecken Sie, was
Sie lernen können.
Mit Videokursen für Beruf, Studium und Freizeit.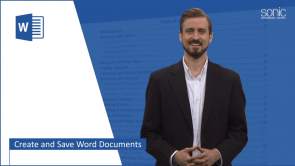 Getting Started with Word (EN)
Von Sonic Performance
Microsoft Word is a comprehensive and feature-laden content authoring tool. Word has features and capabilities that even some long-time users are not familiar with. To use Word efficiently and effectively, you need to know how to navigate effectively—how to locate and select portions of the document that you want to work with, and how to issue commands to get the results you want.
---
Details
Enthaltene Vorträge: 18
Laufzeit: 0:46 h
Enthaltene Quizfragen: 6
Enthaltene Lernmaterialien: 1
---
Dozenten des Kurses Getting Started with Word (EN)
---