Entdecken Sie, was
Sie lernen können.
Mit Videokursen für Beruf, Studium und Freizeit.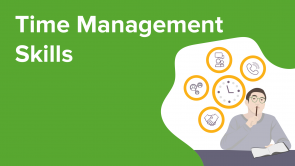 Time Management Skills
Von Tony Hunt
Manage your Time, your Projects and your Priorities!
Having proven experience by working with hundreds of organisations in more than twenty countries, Tony Hunt is able to show you how to save between four to six weeks of real time in a working year.
He will explain how to handle office, email and telephone interruptions, how to handle your paperwork more effectively, and how to use project management tools to assist you in organising yourself more efficiently.
He will also show you how to:
Define and then manage your priorities so that what needs to be done, gets done
Keep a time log to raise your awareness for time-consuming habits
Delegate effectively, enabling you to realise yourself from certain processes
Save 50% of the time you spend in meetings
This programme is very engaging and it contains hundreds of time-saving suggestions that will increase your professionalism and decrease your stress levels.

This course has automatically generated subtitles. Your feedback helps us to continuously improve our offerings.
---
Details
Enthaltene Vorträge: 5
Laufzeit: 2:22 h
Enthaltene Quizfragen: 24
Enthaltene Lernmaterialien: 4
---
Diese Kurse könnten Sie interessieren
Dozenten des Kurses Time Management Skills
---