Entdecken Sie, was
Sie lernen können.
Mit Videokursen für Beruf, Studium und Freizeit.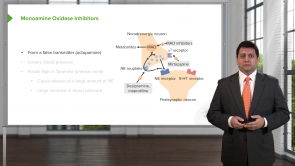 Hematology and Oncology—Pharmacology
Von Pravin Shukle, MD
Review your knowledge about the pharmacology of blood coagulation. Since pharmacology is one of the most important disciplines in the USMLE Step 1, you must understand how to be able to manipulate the body's own chemistry to aid in absorption, metabolism, and excretion.
Dr. Pravin Shukle has extensive experience in disseminating knowledge about drugs to medical audiences and will teach you more about
Antiplatelets
Anticoagulants
Procoagulants
and much more.
High-yield quiz questions and well-elaborated topic reviews will give you the best tools available for successful exam preparation.
---
Details
Enthaltene Vorträge: 5
Laufzeit: 0:27 h
Enthaltene Quizfragen: 16
Enthaltene Lernmaterialien: 1
---
Diese Kurse könnten Sie interessieren
Dozenten des Kurses Hematology and Oncology—Pharmacology
---