Entdecken Sie, was
Sie lernen können.
Mit Videokursen für Beruf, Studium und Freizeit.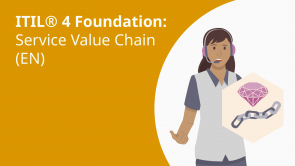 ITIL® 4 Foundation: Service Value Chain (EN)
Von Dion Training
Embark on a transformative journey into the heart of modern IT service management with our ITIL® 4 Foundation: Service Value Chain course. Tailored for aspiring IT professionals, this comprehensive program explores the intricate Service Value Chain framework, equipping you to orchestrate seamless IT services that drive value and innovation.
Key Course Elements:
Service Value Chain: Dive deep into the core of ITIL® 4 practices by dissecting the Service Value Chain, uncovering how each stage interconnects to deliver optimized outcomes.
Plan: Learn to strategize IT services that align with organizational goals, ensuring a comprehensive and well-informed approach to service delivery.
Improve: Cultivate a culture of continuous improvement, leveraging data-driven insights to refine services and enhance customer satisfaction.
Engage: Master the art of stakeholder engagement, fostering strong relationships that lead to better collaboration and successful service delivery.
Design and Transition: Explore the design and transition phases of IT services, ensuring seamless implementation and minimal disruption.
Obtain/Build: Delve into resource management, ensuring the acquisition and development of necessary assets to deliver quality services.
Deliver and Support: Learn to execute and sustain IT services while offering exceptional support to users, ensuring their needs are met efficiently.
Value Stream: Grasp the concept of value streams, identifying and optimizing critical paths within service delivery for maximum efficiency.
By the end of the program, you'll be equipped with the skills to implement this framework within your organization, driving value-driven and innovative service management.
Now new, with automated transcripts. Your feedback helps us continuously improve our offering.
---
Details
Enthaltene Vorträge: 8
Laufzeit: 0:41 h
Enthaltene Lernmaterialien: 3
---
Diese Kurse könnten Sie interessieren
Dozenten des Kurses ITIL® 4 Foundation: Service Value Chain (EN)
---