Entdecken Sie, was
Sie lernen können.
Mit Videokursen für Beruf, Studium und Freizeit.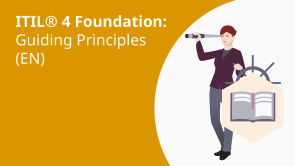 ITIL® 4 Foundation: Guiding Principles (EN)
Von Dion Training
Empower your journey towards mastering modern IT service management through our ITIL® 4 Foundation: Guiding Principles course. This comprehensive program is tailored for professionals aiming to excel in the dynamic realm of IT, providing in-depth insights into the pivotal Guiding Principles that underpin successful ITIL® 4 practices. Dive into this transformative course to learn how to steer your organization towards achieving optimal IT service value and operational excellence.
Course Highlights:
Focus on Value: Discover how to center your IT services around customer and business value, ensuring that every action and decision contributes to delivering meaningful outcomes.
Start Where You Are: Learn the art of leveraging existing resources and capabilities to initiate improvements, facilitating gradual but impactful changes.
Progress Iteratively with Feedback: Embrace a continuous improvement mindset by iterating processes and services based on regular feedback, enhancing adaptability and responsiveness.
Collaborate and Promote Visibility: Explore the benefits of cross-functional collaboration and transparent communication, fostering better alignment and understanding across departments.
Think and Work Holistically: Gain insights into the importance of considering the entire IT ecosystem when making decisions, promoting efficiency and reducing silos.
Keep It Simple and Practical: Grasp the significance of simplicity in designing and implementing IT services, ensuring ease of use and maintenance.
Optimize and Automate: Discover how to streamline processes and tasks through optimization and automation, freeing up resources for strategic initiatives.
Upon completion, you'll possess the knowledge and tools to apply these principles within your organization, fostering a culture of excellence and innovation.
Now new, with automated transcripts. Your feedback helps us continuously improve our offering.
---
Details
Enthaltene Vorträge: 8
Laufzeit: 0:42 h
Enthaltene Lernmaterialien: 3
---
Diese Kurse könnten Sie interessieren
Dozenten des Kurses ITIL® 4 Foundation: Guiding Principles (EN)
---