Entdecken Sie, was
Sie lernen können.
Mit Videokursen für Beruf, Studium und Freizeit.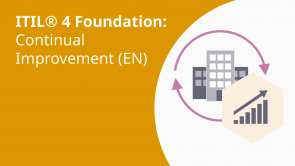 ITIL® 4 Foundation: Continual Improvement (EN)
Von Dion Training
Embark on a journey of ongoing enhancement in the realm of IT service management with our ITIL® 4 Foundation: Continual Improvement course. Tailored for IT professionals with a passion for progress, this comprehensive program delves into the principles and practices of continuous enhancement, equipping you to steer your organization towards sustained excellence.
Key Course Components:
Continual Improvement: Uncover the philosophy of perpetual enhancement and its significance in cultivating organizational success.
Continual Improvement Model: Explore the structured approach to improvement through a model that guides you through key stages.
Vision: Define the visionary destination, setting the aspiration for service quality and efficiency.
Current State Analysis: Assess the present state of affairs to identify strengths, weaknesses, and opportunities for improvement.
Future State Objective: Chart the course for desired outcomes, aligning with business objectives and customer needs.
Action Strategy: Devise a comprehensive action plan to bridge the gap between current and desired states.
Execution: Implement the action plan and monitor progress to ensure alignment with objectives.
Evaluation: Assess results against objectives and gather feedback to refine strategies for improvement.
Sustaining Momentum: Explore methods to maintain the momentum of improvement efforts over time.
Continual Improvement and Guiding Principles: Integrate the principles of ITIL® 4, fostering a culture of constant evolution.
Upon completion, you'll be equipped to lead and contribute to a culture of perpetual growth and advancement.
Now new, with automated transcripts. Your feedback helps us continuously improve our offering.
---
Details
Enthaltene Vorträge: 10
Laufzeit: 0:22 h
Enthaltene Lernmaterialien: 3
---
Diese Kurse könnten Sie interessieren
Dozenten des Kurses ITIL® 4 Foundation: Continual Improvement (EN)
---