Entdecken Sie, was
Sie lernen können.
Mit Videokursen für Beruf, Studium und Freizeit.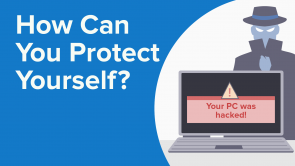 How Can You Protect Yourself?
Von Lecturio Online Courses
Target Audience
Anyone who works with IT on a day-to-day basis and wants to protect themselves and their company from IT attacks.
Level
Basics
Protect yourself from personal attacks.
Recognize and prevent social engineering attacks through critical and well thought out handling of IT information and possible access points.
Recognize and consider different phishing methods and protect yourself with backups as a precaution against ransomware attacks.
Understand the functionality of malware and recognize how it manifests itself in day-to-day work.
Learn basic procedures for dealing with malware, ransomware and social engineering.
Reflect on everyday examples of how IT security incidents can occur and adapt your behavior accordingly.
Basic Information for the Course
The foundation course is a part of the "IT Security" course.
Reinforce your understanding and knowledge with quizzes.
In addition to the video content, you will receive practical supplementary materials.
This course has automated subtitles. Your feedback helps us to continuously improve our offerings.
You might also be interested in
Develop yourself continuously, e.g. with our courses on these topics:
Digitalization for Businesses
Practical Examples: Digitalization
Data Protection concerns everyone
Data Protection for Hospitals
---
Details
Enthaltene Vorträge: 8
Laufzeit: 0:43 h
Enthaltene Lernmaterialien: 1
---
Diese Kurse könnten Sie interessieren
Dozenten des Kurses How Can You Protect Yourself?
---