Discover what you can learn.
With video courses for work, study and leisure.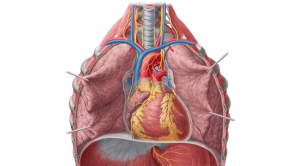 Thorax Anatomy
By Kenhub
Learn about the Thorax here
The mediastinum is an area found in the midline of the thorax that is surrounded by the left and right pleural sacs. Many structures can be found within the mediastinum and will be discussed in this course.
Likewise, the esophagus is an important topic that will also be covered by our expert. Another focus will be the heart, which is the organ responsible for pumping blood into the entire body. Many structures, including the main blood vessels that are found within the framework of this organ, will be discussed.

Other topics are:
Esophagus In Situ
Nerves of the Esophagus
Heart In Situ
Heart Valves
This course is for students and professionals in the fields of medicine and medical care, who either want to prepare themselves for an exam or refresh their basic knowledge in the field.
---
Details
Included lectures: 10
Duration: 3:24 h
---
---
Authors of course Thorax Anatomy
---