Discover what you can learn.
With video courses for work, study and leisure.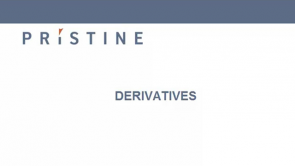 Derivatives
By Edu Pristine
Derivatives for the Chartered Financial Analyst Level-I Exam
This online course is a complex module with introduction to various hardly known terms such as Forwards, Futures, Option & Swaps. This module tests you on introducing these concepts and their application in the real world. It carries a weight of 5% in the CFA Level-I Exam with about 12 questions tested on it.
---
Details
Included lectures: 11
Duration: 8:18 h
Available documents: 11
---
These courses may be of interest to you
---
Authors of course Derivatives
---