Discover what you can learn.
With video courses for work, study and leisure.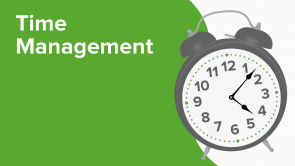 Time Management (EN)
By Zach Davis
Become more productive with efficient time management!
On average, everybody gets interrupted every 11 minutes during working hours. Time management professional and bestselling author Zach Davis will help you to identify and eliminate the reasons for wasting time. You will learn why multitasking is not worth your time, how to plan tasks more realistically and how to combine tasks effectively. Even the right usage of communication devices can save a lot of working hours.
By completing this course, you will gain 40 tips to help you save time, become more productive, work more efficiently and reduce your stress level.
You will also learn more about:
Reachability
Self- and Time Management
Information Flood
This course has automatically generated subtitles. Your feedback helps us to continuously improve our offerings.
---
Details
Included lectures: 6
Duration: 2:41 h
Included quiz questions: 26
Available documents: 2
---
These courses may be of interest to you
Authors of course Time Management (EN)
---