Discover what you can learn.
With video courses for work, study and leisure.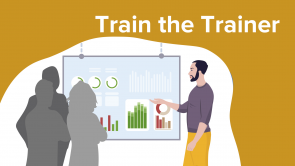 Train the Trainer - Online Course (EN)
By Karen Lawson
Be a trainer!
This practical, interactive program is designed to help professional trainers and subject matter experts to enhance their skills in developing and delivering training in a face-to-face classroom environment as well as a virtual arena, resulting in increased trainee satisfaction and learning success as well as improved transfer of received training to the job.

The program will focus on the adult learner, instructional design and development, instructional materials, interactive methods of delivery, and dealing with difficult people and situations.

Participants will be introduced to a variety of active training techniques and will experience proven techniques for facilitating these activities to meet learning objectives and audience needs.

You will also learn how to overcome anxiety and develop "stage" confidence, create and organize a presentation/training session, identify ideas for communicating your points effectively, and respond to pressure situations. Furthermore, participants will learn how to:
Describe the role of the trainer
Recognise differences among learners
Conductan assessment of needs
Incorporate training methods to address varying learning styles
Write action-oriented, measurable learning objectives
And much more...
---
Details
Included lectures: 14
Duration: 5:10 h
Included quiz questions: 60
Available documents: 14
---
Authors of course Train the Trainer - Online Course (EN)
---