Discover what you can learn.
With video courses for work, study and leisure.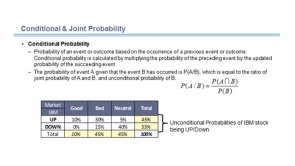 Quantitative Analysis
By Edu Pristine
Perfectly prepared for the FRM-I Exam!
Quantitative Analysis for the Financial Risk Manager-I Exam
This module – with an emphasis of 20% of the FRM-I exam – includes topics that are highly relevant for daily business life such as regression, ordinary least squares (OLS) and heteroscedasticity.
This course also focusses on volatility, on which most returns are depended, and which is based on important models such as EWMA (Exponentially Weighted Moving Average) and GARCH (Generalized AutoRegressive Conditional Heteroscedasticity).
Learn about:
Basic Statistic Measures
Basic Concepts of Regression
Statistical Inteference and Hypothesis Testing
and many more
---
Details
Included lectures: 14
Duration: 6:50 h
Available documents: 14
---
These courses may be of interest to you
---
Authors of course Quantitative Analysis
---