Discover what you can learn.
With video courses for work, study and leisure.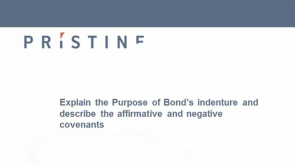 Fixed Income
By Edu Pristine
Fixed Income for the Chartered Financial Analyst Level-I Exam
This module carries a weight between 10 to 12% in the CFA Level-I exam. It gives an introduction to Fixed Income securities and the associated risk they carry. There are some important concepts discussed in this module such as Duration, Convexity and Interest rates which are frequently tested in CFA Level I exam. You will be tested with between 25 to 28 questions in this module.
---
Details
Included lectures: 9
Duration: 7:41 h
Available documents: 9
---
These courses may be of interest to you
---
Authors of course Fixed Income
---