Discover what you can learn.
With video courses for work, study and leisure.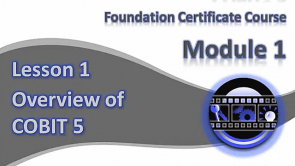 COBIT 5 Foundation Certificate Course
By IT Training Zone
Learn more about COBIT 5!
COBIT 5 provides a thoroughly, experience-based day to day IT activity control system related to enterprise goals and stakeholder needs. This allows IT activity to be evaluated in relation to enterprise objectives and opportunities to be identified. It also demonstrates the contribution of IT to the enterprise.
Learn about:
Stakeholder Needs
Separating Governance from Management
Principles, Frameworks and Processes
and many more
---
Details
Included lectures: 12
Duration: 4:10 h
Included quiz questions: 92
Available documents: 11
---
---
Authors of course COBIT 5 Foundation Certificate Course
---