Discover what you can learn.
With video courses for work, study and leisure.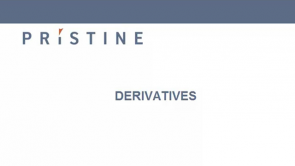 Introduction to Derivative Markets
By eduCBA Global Online Training Experts
This practical, pragmatic course provides an introduction into the derivative market with its nature, risk involvement, various types of instruments and associated terminologies. Compared to securities, derivatives are financial instruments basically used to secure from and manage risks. A main component of the course is to demonstrate how to generate a portfolio by operating different option trading strategies via excel, which helps to discover and reduce the risk to a minimum.
By conclusion of this online course you will have a practical knowledge of derivatives and how they can be distinguished by trading and product types.
---
Details
Included lectures: 5
Duration: 2:23 h
Available documents: 1
---
---
Authors of course Introduction to Derivative Markets
---