Discover what you can learn.
With video courses for work, study and leisure.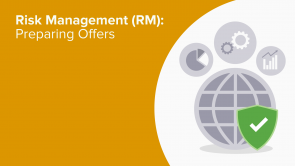 Risk Management (RM): Preparing Offers
By Simone Hoferer
This course is part of the course package
Risk Management in international Projects
Preparing offers - Successful identification and precaution measures for risks and opportunities
In this training we will have a closer look on the quoting and project planning. We will learn how to take appropriate covering measures and how to do a risk assessment for the whole project. While preparing the offer is the best time to form the future project towards our favor.
---
Details
Included lectures: 10
Duration: 5:58 h
Included quiz questions: 62
Available documents: 11
---
These courses may be of interest to you
Authors of course Risk Management (RM): Preparing Offers
---