Entdecken Sie, was
Sie lernen können.
Mit Videokursen für Beruf, Studium und Freizeit.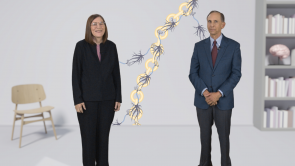 Neuroscience of Learning
Von Peter Horneffer, MD, Barbara Oakley, PhD
Effective learning strategies are supported by neuroscience. Professor Barbara Oakley, Ph.D, describes the neuroscientific basis of learning in terms that are accessible to all learners. Prof. Oakley explains how the brain learns new material and, perhaps more importantly, the learning strategies that are supported by neuroscience for using the brain's pathways to create durable and lasting learning.
---
Details
Enthaltene Vorträge: 8
Laufzeit: 1:24 h
---
Dozenten des Kurses Neuroscience of Learning
---