Entdecken Sie, was
Sie lernen können.
Mit Videokursen für Beruf, Studium und Freizeit.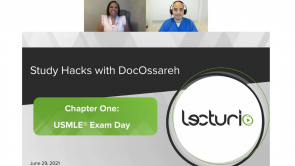 Lecturio's Free Student Events On-Demand
Von Lecturio Online Courses
Maximize your success in medical school!
We know medical school is both challenging and rewarding. We are presenting online events focused on students' perspectives and the unique needs of medical students. Connecting live is what we enjoy most about these sessions – but we want to provide anyone who could not join us live or has just heard of our events the opportunity to see this content. Find our student events in the course "Lecturio's Free Student Events On-Demand." We will regularly add new event recordings to this course.
We will cover:
Practical tips to ace your USMLE® exam
Hands-on study hacks to make your med school life easier
Deep-dives into challenging med school topics

Special guests, our educators, and even real medical students share their experiences, give tips and insights for the USMLE® and other exams, and go through the hardest med school topics with you. Join us live or watch the recording in this course, always available whenever you're in need of a little motivation or study boost.
---
Details
Enthaltene Vorträge: 4
Laufzeit: 3:53 h
Enthaltene Lernmaterialien: 4
---
Dozenten des Kurses Lecturio's Free Student Events On-Demand
---