Discover what you can learn.
With video courses for work, study and leisure.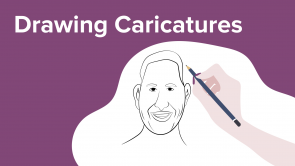 Drawing Caricatures
By Jill Uhler
Caricatures 101 - Drawing with Skill!
This course offers an inside look into the time-tested methods of a professional caricature artist. It provides you with the knowledge as well as the practical application guidelines needed to learn the art of caricature.
Professional caricaturist Jill Uhler uses a step-by-step drawing approach, coupled with expert advice and drawing tips. You will gain insights e. g. on using live models and drawing from photographs.
Additionally, this course contains the following exercises:
How to Draw Children
How to Draw Adults
How to Draw a Multiple-Person Caricature
---
Details
Included lectures: 8
Duration: 2:41 h
Included quiz questions: 19
---
Authors of course Drawing Caricatures
---