Discover what you can learn.
With video courses for work, study and leisure.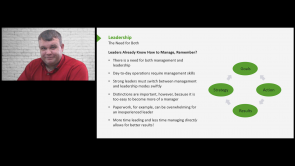 Leadership
By Michael Smith
How to be a good leader in 10 easy steps
This Leadership course will include a variety of concepts that will help an individual develop their leadership skills and abilities. This course will be valuable to both aspiring leaders and seasoned leaders. Aspiring leaders can learn new leadership techniques while seasoned leaders can sharpen their leadership skills and add to their existing methodology.
Among others, these concepts include understanding:
great leadership
the differences between leadership and management
building a solid team
---
Details
Included lectures: 11
Duration: 2:20 h
Included quiz questions: 20
Available documents: 10
---
---
Authors of course Leadership
---