Entdecken Sie, was
Sie lernen können.
Mit Videokursen für Beruf, Studium und Freizeit.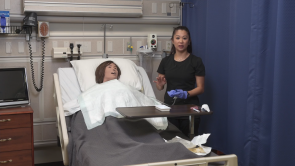 Enteral Feeding Tubes (Nursing)
Von Samantha Rhea, MSN, RN
Gain a Better Understanding of Enteral Feeding Tubes and Equipment Used for Suctioning the GI Pathway!
With this Lecturio online course, you will become familiar with temporary nasopharyngeal tubes, permanent enteral feeding tubes, and tools used to suction the upper gastrointestinal tract.

Besides high-quality video lectures, you can access quiz questions and educational objectives, plus download material. Start learning today!


---
Details
Enthaltene Vorträge: 14
Laufzeit: 1:48 h
Enthaltene Quizfragen: 42
Enthaltene Lernmaterialien: 2
---
Dozenten des Kurses Enteral Feeding Tubes (Nursing)
---