Discover what you can learn.
With video courses for work, study and leisure.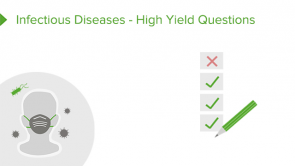 Infectious Diseases - High Yield Questions
By Lecturio USMLE
Are you an expert on infectious diseases?
Without through revision, it is almost impossible to remember all the important facts on infectious diseases. But don't worry – we will assist you with that. In this online course, we provide you with convenient sets of USMLE-style questions that are designed for medical students. These questions provide a wide topic range, including the corresponding diagrams and detailed explanations.
This set of high yield questions works as a perfect complement to Lecturio's online medical courses. Answering it will improve your exam preparation in the best way possible and help you achieve high scores.
---
Details
Included lectures: 0
Duration: 0:00 h
---
---
Authors of course Infectious Diseases - High Yield Questions
---