Discover what you can learn.
With video courses for work, study and leisure.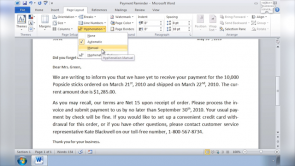 Spell Check, Hyphenation and Thesaurus in Word 2010
By Sonic Performance
In this course you learn how to check spelling and edit the custom dictionary. Word 2010 can check the grammar of your text and you learn how to set the options for checking spelling and grammar.
Besides this the following content is also for you:
Automatic Hyphenation
Thesaurus to suggest synonyms
Readability Statistics & Word Count
---
Details
Included lectures: 9
Duration: 1:02 h
Included quiz questions: 5
Available documents: 1
---
---
Authors of course Spell Check, Hyphenation and Thesaurus in Word 2010
---