Discover what you can learn.
With video courses for work, study and leisure.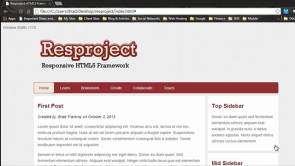 Building Responsive Websites
By Eduonix Learning Solutions
This online video training focusses on every aspect of responsive web design. We will go over what it is, the main components, tools of web design, HTML5 & CSS3 Structure and Media Queries. In this course we will have a project like a custom website/framework that you can use to create new responsive websites.
---
Details
Included lectures: 5
Duration: 2:02 h
Included quiz questions: 10
Available documents: 5
---
---
Authors of course Building Responsive Websites
---