Discover what you can learn.
With video courses for work, study and leisure.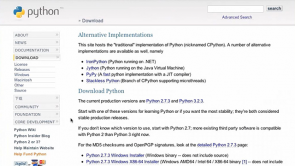 Python for Beginners
By Alex Bowers
Improve your programming skills
Python is adaptable for both small and large development projects. It is powerful enough for experienced programmers to use, but simple to use for beginners as well. This video course is the perfect first step to learn python programming.
Python is fast and easy to use. Therefore we recommend this course especially for beginners. Learn from your experienced trainer Alex Bowers. He will teach you how to write your first program in Python!
This course includes:
Phyton Basics
Loops and Lists
Classes
File and Database Handling
and many more
---
Details
Included lectures: 14
Duration: 3:55 h
Available documents: 37
---
---
Authors of course Python for Beginners
---