Discover what you can learn.
With video courses for work, study and leisure.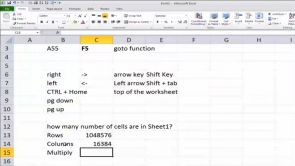 Microsoft Excel 2010 - Beginners
By eduCBA Global Online Training Experts
This Excel beginner course teaches you the basics of MS Excel. It will introduce you to the different powerful tools, techniques and functions of this software program. The course content and structure is based on the feedback from students and professionals and the profound experience of edu CBA in providing excel training. You will learn the basics by means of practical Excel case studies.
Upon completion of this online video course you will be capable of working on an Excel sheet using basic tools and techniques such as:
Data entry and case study in Excel
Calculations & Formulas such as SUM, MAX, MIN, AVERAGE
Formatting of numbers, tables etc.
IF Function, Charts & Graphs, Filters
Pivot tables and many more
---
Details
Included lectures: 8
Duration: 3:43 h
---
These courses may be of interest to you
---
Authors of course Microsoft Excel 2010 - Beginners
---