Discover what you can learn.
With video courses for work, study and leisure.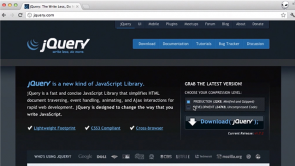 jQuery Tutorial for Beginners
By Alex Bowers
Start Creating Powerful Interfaces!
Learn how to use JavaScript's most important framework: jQuery. Having understood the basics of JavaScript, you can use jQuery and create powerful, impressive visual effects, interface widgets and other site features. In addition, you do not have to worry about cross-browser compatibility problems.
jQuery performs on all modern browsers in the same way and makes it easier to create powerful interfaces on your sites. Your experienced instructor Alex Bowers has created engaging exercises that will help you remember, retain and reuse the material presented in this tutorial.
---
Details
Included lectures: 6
Duration: 1:47 h
Available documents: 16
---
---
Authors of course jQuery Tutorial for Beginners
---