Discover what you can learn.
With video courses for work, study and leisure.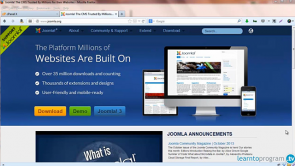 Joomla! for Beginners
By Janice Gentle-Jones
Learn Joomla and manage your web site successfully.
You are looking for a powerful content management system to manage or build up a dynamic web site? We recommend Joomla! In this video course you learn everything you need to know about creating, operating and maintaining a Joomla website.
Janice Gentles-Jones, your experienced instructor, explains you in an understandable way the functions of Joomla until you become a real expert. Whether you have no experience at all, or you're an experienced IT person, this course has everything you need to start using the dynamic Joomla Content Management System.
---
Details
Included lectures: 10
Duration: 3:36 h
Available documents: 9
---
---
Authors of course Joomla! for Beginners
---