Discover what you can learn.
With video courses for work, study and leisure.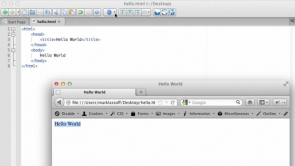 HTML and CSS for Beginners
By Mark Lassoff
Learn web development step by step
HTML and CSS are the basic elements of every website and with this video course you learn how to handle them. Your professional instructor Mark Lassoff guides you through the course by showing you step by step how to code a website.
This course helps you learn HTML as well as CSS (versions 4.01 and XHTML) and prepares you for the future by also covering HTML5. You won't find a faster way to learn HTML and CSS for Beginners!
---
Details
Included lectures: 11
Duration: 3:46 h
Available documents: 24
---
---
Authors of course HTML and CSS for Beginners
---