Discover what you can learn.
With video courses for work, study and leisure.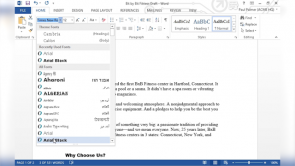 Formatting Text and Paragraphs in Word 2013
By Sonic Performance
Formatting text and paragraphs is the third lecture in the Word 2013 online course. It will explain step-by-step how to make certain elements in your text stand out such as highlighting and different font styles. You will learn about paragraph styles in depth, as well.
Topics included are:
Character formatting
List items
Boarders and shading
Applying paragraph styles
---
Details
Included lectures: 8
Duration: 0:46 h
Included quiz questions: 7
Available documents: 1
---
---
Authors of course Formatting Text and Paragraphs in Word 2013
---