Discover what you can learn.
With video courses for work, study and leisure.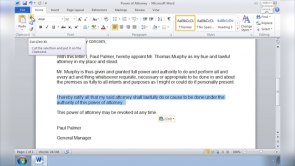 Edit and Correct Text / The Help Function
By Sonic Performance
Have an insight in editing and correcting text in Word 2010. Achieve these skills and get closer to understanding Word 2010.
Expand your knowledge about the help function in Word 2010. Copy and move text, search for a text element or replace it.
You can also:
Check spelling and grammar
Paste options
---
Details
Included lectures: 7
Duration: 0:47 h
Included quiz questions: 5
Available documents: 1
---
---
Authors of course Edit and Correct Text / The Help Function
---