Discover what you can learn.
With video courses for work, study and leisure.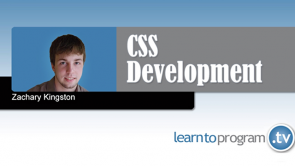 CSS Tutorial for Beginners
By Zachary Kingston
Start building your website with CSS today!
In the CSS Tutorial for Beginners you learn how to create high-quality, graphically amazing and thoroughly impressive web sites. Make your web site look outstanding and as you like. All you need to have is a little creativity and a strong understanding of CSS design and coding.
You will code along with your instructor Zachary Kingston, who will enable you to sharpen your skills with fun and creative exercises. Study dozens of style sheet examples provided and become fully competent in CSS and master your own website!
---
Details
Included lectures: 13
Duration: 4:34 h
Available documents: 18
---
---
Authors of course CSS Tutorial for Beginners
---