Discover what you can learn.
With video courses for work, study and leisure.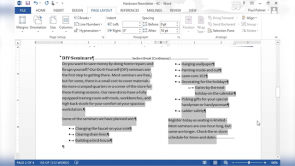 Controlling Text Flow in Word 2013
By Sonic Performance
Become an expert in Word 2013
This lecture by Terence Rabe will introduce you to controlling the text flow in your Word document. You will learn how to control the paragraph flow, inserting columns, link text boxes to control the text flow and many other things.
---
Details
Included lectures: 5
Duration: 0:24 h
Included quiz questions: 4
Available documents: 1
---
---
Authors of course Controlling Text Flow in Word 2013
---