Discover what you can learn.
With video courses for work, study and leisure.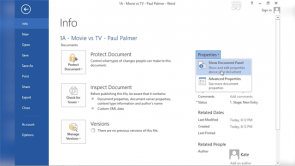 Collaborating on Documents with Word 2013
By Sonic Performance
Improve your Word 2013 knowledge
In this lesson calles collaborating on documents, you will learn how to share, compare, review and merge single documents.
Additionally, you will gain knowledge on how to modify specific user information, which manage unique file attibutes such as identifying, searching or organizing a document.
---
Details
Included lectures: 9
Duration: 0:38 h
Included quiz questions: 6
Available documents: 1
---
---
Authors of course Collaborating on Documents with Word 2013
---