Discover what you can learn.
With video courses for work, study and leisure.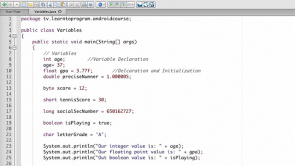 Android Development for Beginners
By Mark Lassoff
With this video course you learn the basics to start developing you own apps on android. Become an expert in programming on android and get a lot of opportunities: Convert you awesome ideas for an app into a working app on you device, help you company to compete on the market for mobile devices. The possibilities are almost unlimited.
The course starts with the basics in Java and guides you to your own working app. You don't have to be an expert in programming to do this course. This video tutorial is perfect for beginners with no experience in programming. Some Java Basics will be helpful for you to know: Variables, Loops, Functions, and Conditionals. These are the absolutely basics and should be enough to help you do very well in this course. Start now!
---
Details
Included lectures: 17
Duration: 7:24 h
Available documents: 26
---
---
Authors of course Android Development for Beginners
---