Discover what you can learn.
With video courses for work, study and leisure.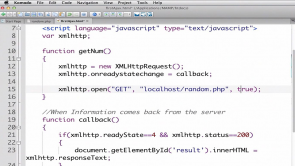 AJAX Programming
By Mark Lassoff
Become an expert in AJAX-programming!
You want to know how developers create websites with slick, smooth and elegant user interfaces? There is a simple answer: Ajax.
By taking our Ajax video course, you learn to develop pages on your web application which respond quickly and only need minimum of screen refreshes. With some basics in Javascript and this video training you will be able to take Ajax database information and sort, store, alter and conditionally format them on the clients side.
Your highly experienced instructor Mark Lassoff takes you through the foundations of Ajax and to advanced topics like parsing JSON responses from web services.
---
Details
Included lectures: 6
Duration: 2:55 h
Available documents: 17
---
---
Authors of course AJAX Programming
---