Discover what you can learn.
With video courses for work, study and leisure.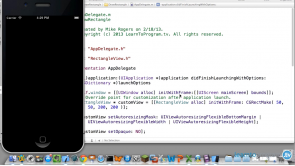 3D Fundamentals with iOS
By Mike Rogers
Practice your iOS programming skills
Create rich user experiences that include graphics and animation
With this video course you learn to expand your iOS native development skills and to create 3D games and apps for the iOS platform. You start off with the Objective-C CGRect class, followed by shapes and basic animations. In the end you will be able to work with video animation, masks as well as synchronizing audio to your creations.
---
Details
Included lectures: 10
Duration: 2:30 h
Available documents: 16
---
---
Authors of course 3D Fundamentals with iOS
---