Discover what you can learn.
With video courses for work, study and leisure.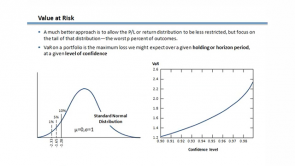 Market Risks
By Edu Pristine
Practice for FRM-II Exam!
Market Risks for the Financial Risk Manager-II Exam
Market Risks is an important module with an emphasis of 25% of the FRM-II exam, which focuses on the risk of various management instruments used by investors both for trade or investment purposes.
The module will give a deep understanding of
Term Structure Models
Mortgage Backed Securities
parametric/non-parametric approaches to Value-at-Risk
This online course gives an entry into the FRM - Financial Risk Manager II and prepares for the following four modules.
---
Details
Included lectures: 18
Duration: 11:21 h
Available documents: 19
---
These courses may be of interest to you
---
Authors of course Market Risks
---