Discover what you can learn.
With video courses for work, study and leisure.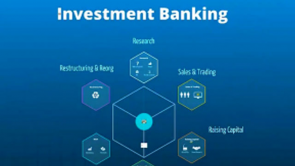 Investment Banking
By eduCBA Global Online Training Experts
This online course on Investment Banking is constitutional for those, who immediately base their studies on the Finance Industry as well as simply being interested in questions like:
What is an Investment Bank?
What is the difference between Retail & Commercial Bank?
How does the Investment Banking Industry function?
How is an Investment Bank structured?
What kind of skills should an Investment Banker have?
The information provided is particularly helpful for Investment Banking students, who prepare for their studies and consider taking further steps towards the Investment Banking industry. Not only a basic overview is given, but a detailed explanation of all relevant topics related to Investment Banking. By conclusion of this salutary course you will have a precise impression of the functionality and process of the Investment Banking Industry.
---
Details
Included lectures: 3
Duration: 1:27 h
---
---
Authors of course Investment Banking
---