Discover what you can learn.
With video courses for work, study and leisure.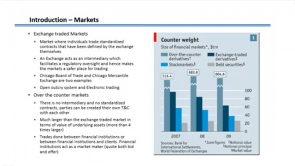 Financial Markets and Products
By Edu Pristine
Prepare for the FRM-I Exam!
Financial Markets and Products for the Financial Risk Manager-I Exam
Financial Markets and Products is one of the most important modules with an assigned
emphasis of 30%
of the FRM-I exam. This module gives step-by-step instructions and enables a deep understanding on all the important issues – from basic to very complex topics such as valuations.
Examples for important issues covered are
Futures on Consumption Assets, One- and Multi-Factor Risk Metrics and Hedges, Risk Neutral Valuation, Swaps
as well as
Foreign Exchange
and many more.
---
Details
Included lectures: 25
Duration: 10:21 h
Available documents: 55
---
These courses may be of interest to you
---
Authors of course Financial Markets and Products
---