Discover what you can learn.
With video courses for work, study and leisure.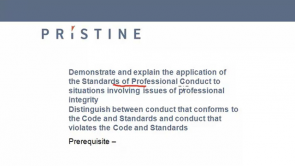 Ethical and Professional Standards
By Edu Pristine
Ethics for the Chartered Financial Analyst Level-I Exam
The Ethics module is of great relevance for the complete CFA Program since the Code and Ethical Standards are discussed in all the three levels of CFA exam. The Ethics module is carrying the second highest weight of 15% in the CFA Level-I Exam. You will be tested with a total of 36 questions.
---
Details
Included lectures: 5
Duration: 3:09 h
Available documents: 5
---
These courses may be of interest to you
---
Authors of course Ethical and Professional Standards
---