Discover what you can learn.
With video courses for work, study and leisure.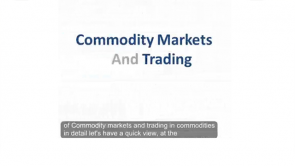 Commodities
By eduCBA Global Online Training Experts
This practical online course helps to understand the nature of commodity markets, the internal workings of the main commodity sectors and to determine the relevant primary influences. Main components are:
A short introduction on Commodities
Derivatives compared to Commodities
Commodity markets and trading
Fundamental and technical analysis
Contract settlement
Intra Day Calls
The main aim is to provide tools to participants like traders, risk managers or investors to value the level of risk in commodity related strategies. By conclusion of this course you will have an overall impression on the challenges within recent sectors and raise awareness of benchmark commodity of future markets.
---
Details
Included lectures: 3
Duration: 1:22 h
Available documents: 3
---
---
Authors of course Commodities
---