Discover what you can learn.
With video courses for work, study and leisure.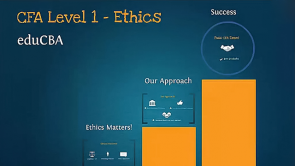 CFA Level 1 - Ethics
By eduCBA Global Online Training Experts
Ethics for the CFA Level I Exam
This module covers one of the most important parts of CFA Level I Exam: Ethical and Professional Standards, also known as Ethics Module of CFA. This module has a weightage of 15% in the Exam. The Ethics module in the Chartered Financial Analyst Exam has always been a big barrier for students of this program. That's why edu CBA developed this plain and vivid course, focusing on the most important and difficult topics of this module. Upon completion of this course you will be well prepared for the Ethics module of CFA Level I Exam.
---
Details
Included lectures: 11
Duration: 7:07 h
---
---
Authors of course CFA Level 1 - Ethics
---