Discover what you can learn.
With video courses for work, study and leisure.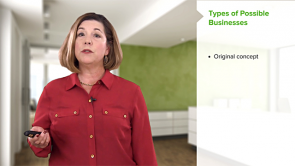 Being an Entrepreneur
By Susan Harrington
Start your own company
Discover if you have what it takes to start your own company. Determine the right type of company to create or acquire. What are your success goals and how will you achieve them?What will it take for you to achieve success quickly? How will you plan your exit strategy?
This course provides a step-by-step instruction to exploring the basic actions in starting a successful company.
---
Details
Included lectures: 2
Duration: 0:32 h
Included quiz questions: 5
Available documents: 2
---
---
Authors of course Being an Entrepreneur
---